Upgrade your Echoplex to LoopIV !
You can order right here through PayPal!
In the kit you will receive:
A pair of EPROMs with LOOPIV software in an antistatic case;
fully tested in an Echoplex.
LOOPIV 310-page manual on CD ROM in PDF format.
Acrobat reader included.
Single page printout of installation instructions for the new EPROMs.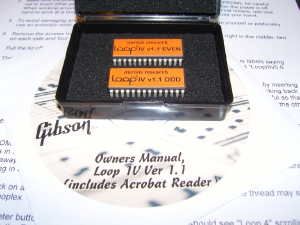 Price per kit:
| | |
| --- | --- |
| USA | $99.95USD plus $15USD 'International Signed For' Insured Postage: Total = $114.95 |
| UK | £50 + £3 for 1st Class recorded mail; Total = £53 |
| Europe | €68 + €10 for International Signed For Insured Postage: Total = €78 |
| Elsewhere | For anywhere else, we can get you a postage quote. |
There will also be a 50% reduction in the postage for the second kit if you order 2 x complete kits.
E.g. Total USA = ($99.95 x 2) + ($15 + $7.50) = $222.40USD
Payment must be made via Paypal to: andy.ewen@btinternet.com
Please ensure the address to which you would like the kits sent is the one on your Paypal account. If not, please send an alternative address.
As soon as payment is cleared, the kit is dispatched and an email confirmation of payment and dispatch is sent.
If you have any questions or need any other spare parts for your Echoplex, please mail to Andy Ewen